Question

What is ManageMinds?

Answer

ManageMinds provides flexible, affordable online therapy for everyone. When you book with us, we'll match you up with an experienced therapist who meets your requirements, helping you to start your journey to better mental health.
Question

What kind of therapy services does ManageMinds offer?

Answer

With ManageMinds, you can either book individual therapy sessions or a larger block of sessions known as a bundle. Bundles enable you to save when you buy multiple sessions at once. You can then take the sessions at your own pace, spreading them across weeks or months—it's up to you.

As well as our open-ended therapy sessions, we also offer more focused programmes which address a single topic, such as health anxiety.
Question

How much does a ManageMinds session cost?

Answer

We believe that therapy should be accessible to everyone, and aim to make our prices as affordable as possible. You can even get sessions at a discount price by choosing one of our bundles, or get extra resources included when you book one of our programmes. Prices start from £60.
Question

Do I need a formal diagnosis to access these services?

Answer

No. Our therapy sessions are available to anyone who would like help with their mental health, regardless of whether they have received a professional diagnosis.
Question

Do you offer therapy to children?

Answer

Unfortunately, our therapy packages are only available to those aged 18 or over.
Question

How quickly can I get started?

Answer

We know that it's important to get the help you need quickly, and we aim to help all of our clients to get started with a therapist as soon as possible. Your first session with ManageMinds could take place in as little as 24 hours. For a more detailed estimate, get in touch with us.
Question

How do I know which therapy service is right for me?

Answer

The right type of therapy for you will depend on the complexity of your goals or how much you want to achieve with us. If you're dealing with anxiety or depression, our easy-to-use questionnaires can help you to make an informed choice.

Alternatively, you can arrange a free, 15-minute phone consultation with one of our therapists, to gain a professional opinion on which service is right for you. To schedule a call, simply give us a ring or use the form on the contact page to let us know your availability.

If you'd like to get started but aren't yet sure how many hours you'll need, then try our one-hour session. It's easy to add on more hours, and we can even offer you a discounted rate if you choose one of our bundles.
Question

Do you offer individual therapy sessions?

Answer

Yes. ManageMinds offers you the choice between individual therapy sessions and structured programmes. You decide which is the best fit for your needs!
Question

Can I change my booking once it's started?

Answer

Yes. If you feel like you need to increase or decrease the amount of hours you have signed up for, then we can arrange this for you. Simply get in touch with your Therapy Coordinator and we'll make the necessary adjustments.
Question

How do the sessions take place?

Answer

All ManageMinds sessions take place online via video call software. We'll send you a unique link to access your sessions once you've booked with us. You can have your camera on or off during the session—it's completely up to you. Alternatively, you can do your sessions over the phone.
Question

Do I need to download an app?

Answer

Our sessions can be completed in a standard web browser, such as Edge, Chrome or Safari, so if you're taking your ManageMinds sessions on a desktop or laptop, you won't need to download anything. If you're on a tablet or mobile device, you may need to download a video calling app to take your sessions.
Question

What kind of device do I need to take ManageMinds therapy sessions?

Answer

You can take ManageMinds sessions using any desktop, laptop, tablet or smartphone capable of handling video calls. If you don't have any of these devices, be sure to let us know before starting sessions with us, and we'll work on arranging an alternative, such as a phone call.
Question

Can I do some of my therapy sessions in person?

Answer

Unfortunately, ManageMinds only offers online therapy sessions at this time.
Question

What should I look for in a therapist?

Answer

Therapists should be professional, understanding and able to put you at ease. ManageMinds only works with therapists we trust, so you can be certain you're in good hands. We also cater to individual preferences you may have.
Question

How will I be allocated a therapist?

Answer

Once you've booked therapy with us, we'll gather some additional information from you, and your Therapy Coordinator will then match you with a suitable therapist. If you don't think they're a good fit, just let us know, and we'll look for someone who better matches your needs.
Question

How will my therapist contact me?

Answer

Once you have been allocated a therapist, they will contact you via phone or email to arrange your first appointment. If you have a preferred method of contact, just let your Therapy Coordinator know.
Question

I'm not sure my therapist is a good fit. What can I do?

Answer

Get in touch with your Therapy Coordinator and we will reassign you to a new therapist, free of charge.
Question

Which payment methods do you accept?

Answer

We accept all major credit and debit cards.
Question

Can I pay for my therapy in instalments?

Answer

Yes. It's possible to split the cost of your therapy over three monthly payments. You only need to pay a £75 deposit to secure your spot.
Question

Do you accept insurance?

Answer

We are not currently able to accept insurance as payment. However, we can provide you with a receipt for our services, which may allow you to claim reimbursement from your insurer.
Question

Can I pay my therapist directly?

Answer

All payments are made to ManageMinds. Any payments made outside of our system are not recorded or protected.
Question

Can I purchase a package for a friend or family member?

Answer

Yes! Simply book using your own details and then send us an email at giftcard@manageminds.co.uk with the relevant information and we will make all of the necessary arrangements.
Question

What is your refund policy?

Answer

Before your first session takes place, you have the ability to cancel your therapy session or bundle and receive a full refund.
Question

What is a programme?

Answer

A ManageMinds programme combines one-to-one therapy with a range of useful worksheets and resources to effectively target specific mental health conditions. Each programme follows a specially-designed schedule that can be adjusted to meet your individual needs. 

The programmes give you the power to overcome mental health struggles by providing you with a detailed understanding of the factors causing your condition, alongside a number of coping mechanisms and stress-reduction techniques to improve your wellbeing. They also include regular assessments to ensure trackable progress is being made.
Question

Do I need to bring anything with me to the sessions?

Answer

Before the programme begins, you will receive a welcome pack that includes everything you need to know to prepare. It's a good idea to establish a private room or space where you can do the therapy component of your programme. You will need a laptop (or similar device) with Zoom installed to complete the sessions.

We also suggest having a pen, notepad, tissues and soft drink on hand.
Question

What if I want to talk about something that isn't on the programme outline?

Answer

The programme outline should be viewed as a guide, rather than a strict curriculum. If you arrive at a session with specific issues you would like to discuss, you are more than welcome to do so. We understand that all of our clients are individuals, so your therapist will adapt the programme to meet your specific needs and wants. 

Please note that if your circumstances require the programme to be significantly altered, you may not be able to complete everything listed on the original outline.
Question

What if I need more than 6 sessions?

Answer

We believe that the programme of 6 sessions provides enough time and information for you to make significant improvements to your mental health. The programmes are also designed to equip you with coping techniques and self care plans that you can use well beyond your final session. 

If, upon completing the programme, you feel that you would benefit from more time with a therapist, our team will be happy to arrange further sessions for you.
Question

Can I do the programme in person rather than online?

Answer

No. All ManageMinds services are conducted online. We feel this provides clients with the most comfortable and convenient approach to therapy.
Question

How quickly can I complete the programme?

Answer

This is a comprehensive programme that includes a lot of information and resources. To get the most out of it, we recommend that you do not complete more than one session a week. However, if you are eager to schedule sessions more frequently than this, you can discuss it with your therapist.
Our Blog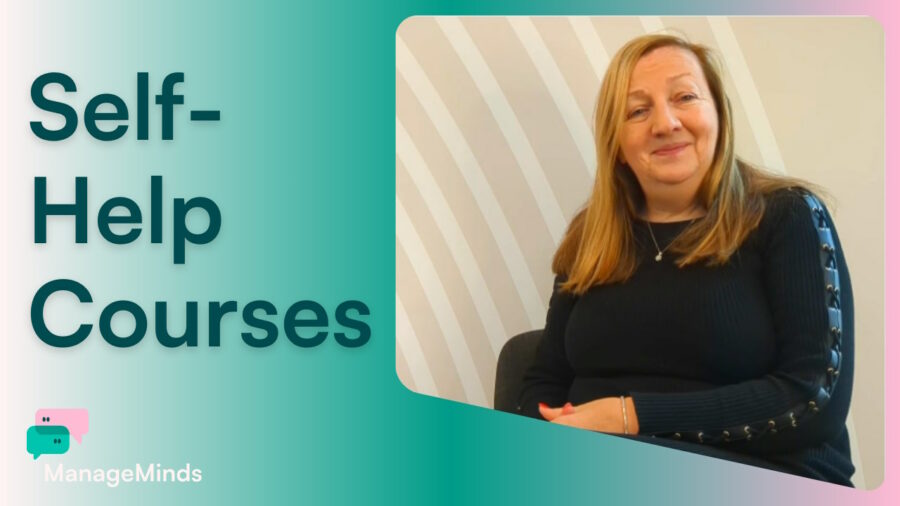 ManageMinds now offers a range of self-help courses. Find out everything from what's included to prices in this article.
DBT is often used to help people who experience intense emotions achieve balance and control. Read this article to learn more about this talking therapy.
Constantly feeling mentally and physically exhausted? Lost all motivation in your work and personal life? These 8 essential tips will help you manage and overcome burnout!
More From Our Blog
›
Ready to get started?
Now that you know how it all works, it's time to take the first step to improve your wellbeing. Click the button below to get started on your journey to managing anxiety and gaining peace of mind.
Book Now
›