Affordable therapy is just a click away
Connect with expert therapists from the comfort of your own home. Book a single session or save with a bundle. Talk to someone as early as tomorrow.
Get Started
›
Our therapists are members of
How ManageMinds Works
Select the therapy type that matches your needs from our range of options.

Browse our network of experienced therapists and match with your perfect fit.

Start your journey to a healthier mind with your allocated therapist.
Get Started
›
Who We Are
ManageMinds was created in the belief that high quality therapy should be available to everyone—no matter their location or time constraints.
Accessing support for your mental health is one of the best investments you can make in your future. ManageMinds makes this process as simple as possible, so that more people can take this important step for themselves.
Find Out More
›
What We Offer
Single Session
A one-hour session with a professional, experienced psychotherapist.
Service Includes
Expert Therapist

Emotional Support
What To Expect
During this one-hour session, you'll speak directly to a therapist via a phone or video call, and be able to discuss any issue affecting your mental health. Sessions are completely online, so you can talk from the comfort of your own home.
5-Hour Bundle
Buy 5 sessions and enjoy a discount. Use them once a week or at your own pace.
Service Includes
Expert Therapist

Emotional Support

Scheduled Sessions
What To Expect
This flexible bundle features five hours with a therapist, which you can take at a pace that suits you. All sessions are 100% online and completely confidential, giving you the space to talk about your mental health freely and openly.
Workplace Anxiety Programme
Stop negative thought spirals and establish a healthy relationship with your work.
Service Includes
Expert Therapist

Emotional Support

Scheduled Sessions
What To Expect
A structured schedule of 6 weekly therapy sessions where you will uncover what's fuelling your workplace anxiety and learn how to combat symptoms and regain a sense of control. A range of stress reduction techniques and self-care exercises will help you feel happier and healthier. Learn More >
View All Services
›
Our Values
Privacy and Empathy

We know that mental health is a deeply personal topic. Rest assured, our services are completely confidential and you will always be treated with kindness and respect.

Professional Excellence

ManageMinds works with a hand-selected group of accomplished therapists who have a wealth of knowledge and experience in treating mental health conditions.

Measurable Progress

Our goal-oriented sessions and wellbeing assessments allow you to track how far you've come, from your first session to your last, for that real sense of achievement.
Learn More
›
From Our Blog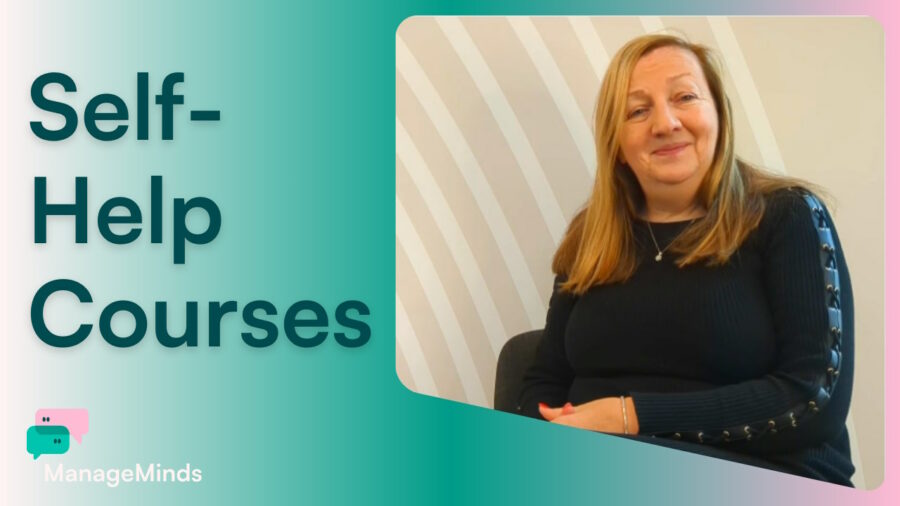 ManageMinds now offers a range of self-help courses. Find out everything from what's included to prices in this article.
DBT is often used to help people who experience intense emotions achieve balance and control. Read this article to learn more about this talking therapy.
Constantly feeling mentally and physically exhausted? Lost all motivation in your work and personal life? These 8 essential tips will help you manage and overcome burnout!
More From Our Blog
›
---
Don't just take our word for it
A simple and convenient way to access therapy online. It felt good to have my concerns listened to - my therapist really understood me and cared about my health.
JL
I found the sessions were very beneficial. I have tried online therapy before but didn't find a good match. My ManageMinds therapist Ben was very knowledgeable and understanding of my issues and helped me work through them.
Jack
Thanks to ManageMinds for providing an affordable service that allows people to overcome their fears. I have suffered with anxiety for a long time and finally feel that I have the right therapist for me and I'm going in the right direction.
Naz
Really worth it! I worked with Fiona for 10 weeks and she was amazingly supportive. She listened well and made me feel comfortable. A massive thank you to her :)
CH
I had an amazing experience with ManageMinds. My therapist Sarah was professional, kind and supportive throughout my sessions. I highly recommend this service!
Billy
I was hesitant to try online therapy, but I'm so glad I did. The sessions were flexible, and I appreciated the convenience of being able to access therapy from home. I would definitely recommend ManageMinds to anyone in need of mental health support.
Seb
ManageMinds helped me deal with a stressful issue in a very well-planned and agreeable timescale. The professional I worked with was very helpful and insightful. Will definitely use this service again if I feel overwhelmed.
Matt
I really recommend ManageMinds. Their customer service was excellent and they matched me with the right therapist in less than 24 hours. My sessions really helped to reduce my anxiety and I feel so much more confident now. Great experience!
Hajar
Frequently Asked Questions
What is ManageMinds?

ManageMinds provides flexible, affordable online therapy for everyone. When you book with us, we'll match you up with an experienced therapist who meets your requirements, helping you to start your journey to better mental health.
What kind of therapy services does ManageMinds offer?

With ManageMinds, you can either book individual therapy sessions or a larger block of sessions known as a bundle. Bundles enable you to save when you buy multiple sessions at once. You can then take the sessions at your own pace, spreading them across weeks or months—it's up to you.

As well as our open-ended therapy sessions, we also offer more focused programmes which address a single topic, such as health anxiety.
How quickly can I get started?

We know that it's important to get the help you need quickly, and we aim to help all of our clients to get started with a therapist as soon as possible. Your first session with ManageMinds could take place in as little as 24 hours. For a more detailed estimate, get in touch with us.
More FAQs