‹
Blog Home
Meet the Team: Philipp
In this edition of our Meet the Team series, we're shining the spotlight on psychotherapist Philipp. Learn more about him here!
Hello ManageMinds readers and welcome to the latest edition of 'Meet the Team', a series that shines the spotlight on the therapists and counsellors who are helping us deliver high-quality therapy to those who need it.
Today, we're giving you the opportunity to learn more about Philipp, a therapist with over 5 years of experience and a wealth of knowledge to share. Let's go!
---
About Philipp
Age: 36
What types of therapy do you utilise? Focusing-oriented, CBT, person-centred and integrative.
What areas do you specialise in? Anxiety, trauma and Autism Spectrum Disorder (ASD).
What inspired you to become a therapist, and how did you get started in your career?
Through my childhood and teenage years I struggled with low self-esteem, OCD and anxiety. Therapy for me was the beginning of an extremely fulfilling journey of self-discovery, self-development and improved mental wellbeing.
I felt that my life experience and psychotherapeutic journey would be beneficial to other people who were struggling with their mental health. Hence, I started to mentor teenagers who were struggling socially and with their mental health.
Realising that I seemed to have a knack to connect and 'get' the mentees I was working with, as well as a hunger to learn more about the mind and mental health, I pursued psychotherapy professionally.
What do you think is the most challenging aspect of being a therapist, and how do you manage this in your work?
Therapists encounter their own struggles in life and sometimes it can be challenging to concurrently be a supportive pillar to their clients. Self-care and supervision are ethical requirements and therapists are required to monitor and gauge their own psychological and physical health to ensure that they work in ways that satisfy professional standards.
Aside from regular supervision, I also work with my own therapist. Further, I have a limit for the amount of clients I take on to ensure that all my clients get the best version of myself!
Can you share a success story or meaningful experience you've had with a client that has stayed with you throughout your career?
I had a few clients who have come to see me with various mental health issues including depression, suicidal ideation and anxiety. These clients also reported social anxiety, low self-esteem and a lack of identity.
When I mentioned my suspicion they may be autistic it was a hugely enlightening moment for them. Truly life changing. Many aspects of the way they experienced the world suddenly made sense. They started to accept all aspects of self and became more calm, content, present.
Note: I only disclosed my suspicion after rapport has been established, after I gathered adequate information about their childhood experiences and with a disclaimer that I'm not qualified to diagnose as well as a recommendation to see a clinical psychologist.
What's your favourite thing about your job as a therapist?
To be in sync (or almost in sync) with a client's internal experience. It is a powerful kind of connectedness and it always facilitates therapeutic process and change.
What's the most interesting or unique experience you've had in your career as a therapist?
Not an easy question to answer but what comes to mind is an experience I had during my training. Aside from studying, I explored various therapeutic methods—as a client. I had therapy sessions with various therapists. A person-centred therapist, CBT therapist, focusing-oriented therapist and a Gestalt therapist. However, I found one particular method fascinating, although it only had a limited effect.
I had 12 sessions with a hypno-analyst. This, rather uncommon, method was developed by Freud and combines hypnosis and psychoanalysis. The sessions involved recording fragments of my dreams each morning and recalling them in a trance-like state (utilising a psychoanalytic method known as free association).
The 70+ year old therapist tried to achieve this by dimming the lights and hypnotising me, using a swinging pendulum. I never really reached the desired state but it was nevertheless relaxing as well as cathartic.
What are some common misconceptions about therapy that you would like to dispel for our readers?
Therapy isn't something 'done' to the client but it is very much a collaborative journey of self-discovery and resolution. This also implies that change depends very much on the motivation of the client. Therapists do not have a 'quick fix' method (although there can be instances where a particular method can have a fast and powerful impact, e.g., EMDR for single event traumas).
What advice would you give to someone who is considering therapy but isn't sure about taking that first step?
Many therapists offer a free phone consultation—take the offer and don't feel obliged to go ahead. You can always start with just one session and see how you feel about continuing.
How do you help hesitant clients feel more comfortable opening up and sharing their experiences?
I give them the control over the sessions; i.e. how much they want to share, what they would like to work on and whether to have another session with me. Building rapport is crucial, especially in the beginning.
How do you encourage your clients to prioritise their own self-care and wellbeing?
Actually, the notion of self-care is integral to my work and present in every single session. I encourage clients to pause and curiously acknowledge what is going on within. I believe that this approach helps clients acknowledge the wounds that need healing. Checking inside also helps gauge their emotional resilience and mental capacity as well as the necessary actions needed to restore their wellbeing.
What's the best advice you've ever received, and how have you applied it to your life or work?
Be kind to yourself! I didn't used to be. By being kinder to myself I can pursue the things that really matter to me.
What's your favourite hobby or pastime outside of work?
Playing chess.
What's something people might be surprised to learn about you?
I was in Talmudical colleges for about 10 years with a goal to becoming a Rabbi before pursuing my current psychotherapy career.
---
If you're looking for more information on our team of friendly, experienced therapists and counsellors, head on over to our therapists page. Alternatively, catch up with our previous Meet the Team instalments here:
Explore More Articles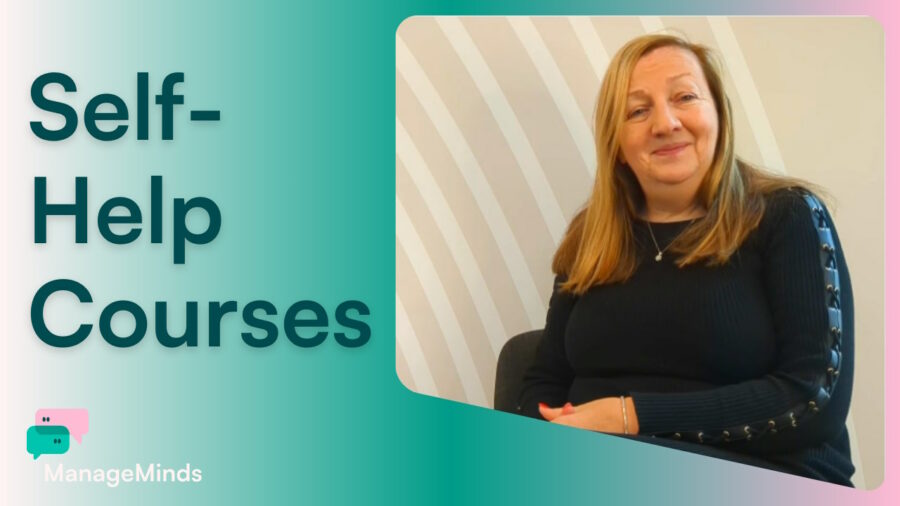 ManageMinds now offers a range of self-help courses. Find out everything from what's included to prices in this article.
DBT is often used to help people who experience intense emotions achieve balance and control. Read this article to learn more about this talking therapy.
Constantly feeling mentally and physically exhausted? Lost all motivation in your work and personal life? These 8 essential tips will help you manage and overcome burnout!