‹
Blog Home
Anger: When Does It Become a Problem?
We all feel angry sometimes, but how do you know if you're developing an anger problem? This article covers the warning signs to watch out for.
Ever been stuck in a queue of traffic and watched another car zoom past and attempt to cut in ahead of you? Have you missed a connecting flight because a couple of passengers delayed the entire plane by arriving late at the gate? How about one of those nights where you really need to get some sleep but the neighbours decide to belt out Abba's greatest hits at 3am? Each of these scenarios can elicit anything from mild annoyance to a full blown rage.
Yep—anger is a normal human emotion that everybody experiences from time to time. It's also something that you may occasionally express in a way you're not proud of. However, this doesn't necessarily mean that you have an anger problem.
So, how do you know if your anger is something you should be concerned about? ManageMinds is going to cover the warning signs that you may have an anger problem, as well as some tips on how to control your emotions.
What is the purpose of anger?
The American Psychological Association defines anger as:
An emotion characterised by antagonism toward someone or something you feel has deliberately done you wrong.
Depending on the situation or person, it's an emotion that can vary fairly dramatically in terms of intensity and duration.
You might be surprised to learn that anger has a positive role to play in our lives. It is actually one of our survival tools as a species, as it gives us the energy and focus to fend off attacks from perceived threats. These days you might not be facing a sabre-toothed cat on an open plain, but anger can still help you to establish boundaries and keep yourself safe.
For example, if you are in a social setting and feel your anger levels rise in response to something, it could be a sign that someone has gone too far. Using your anger as a signal to stop or remove yourself from a potentially volatile situation is useful. However, mastering this approach does require you to display a certain level of coolness and control.
What causes anger?
Anger is a complex emotion that takes many forms. It can be caused by a number of short-term and long-term factors, some of which are detailed below.
Short-term causes
Feeling powerless
Feeling threatened
Feeling disrespected
Long-term causes
Low tolerance for frustration
Facing discrimination
Growing up with people who were unable to effectively communicate their emotions
Bereavement
Conditions like depression, anxiety and OCD
For many people, anger is used as a way to cope with other emotions they may not be comfortable processing. This includes feelings like embarrassment, fear and confusion.
Symptoms
Anger can have an impact on the entire body. As a result, it produces symptoms that can be physical, psychological or behavioural in nature. These include:
Physical
Psychological
Behavioural
Rapid heartbeat
Increased temperature
Churning stomach
Tightness in the chest
Sweating
Frustration
Irritability
Rage
Overwhelm
Guilt
Shouting
Throwing things
Breaking things
Attacking others
Self-harm
The symptoms of anger can be unpredictable and may appear with very little warning.
Anger: to express or supress?
When we experience anger, there are two main pathways through which it is often channelled. You might let it out and express it, or bury it within you and suppress it. While the former option comes with more stigma and obvious dangers, the latter is also very detrimental to a person's wellbeing.
Suppressing anger
When you feel angry but hold it in, it may seem like you have done a good job of making it disappear, but unfortunately this is not the case. Suppressed anger can actually put a great deal of stress on the body. If you do this repeatedly, it can cause health issues such as high blood pressure, headaches and chronic fatigue.
To make things more complicated, you may be suppressing anger without even realising it. Unconsciously holding down your feelings can lead to the development of mental health conditions like depression and anxiety.
In addition, you may find that anger you feel about a particular scenario, which for some reason you are unable to express, is later misdirected at an innocent, undeserving person. This is an example of the defence mechanism displacement at work, and it can cause fractures in relationships, thus putting a further toll on your mental wellbeing.
Expressing anger
The drawbacks of suppressing anger do not give you a licence to let all of your anger out as and when it appears. This approach can pose a risk to yourself and others, as well as making you feel even more angry.
Expressing small amounts of anger in a healthy way (more on this later) can be cathartic, but allowing yourself to fly into a rage can actually work you up even more and is unlikely to resolve anything.
On top of that, regularly expressing anger is likely to be detrimental to your relationships and overall mood. This can leave you with feelings like guilt and confusion, and a vicious cycle begins because you feel angry all over again.
You may also inadvertently start relying on anger as a go-to reaction when dealing with difficult situations or emotions, because it can often be easier to fly off the handle rather than let yourself experience vulnerability.
What separates normal anger from an anger problem?
There are 3 measurements you can use to separate normal levels of anger from what constitutes an anger problem: frequency, intensity and how it is expressed.
Worried that you or someone you know may have an anger problem? Here are 10 warning signs to look out for…
Your anger feels like it is out of your control
You break or destroy things when you are angry
Your anger makes you act violently towards others or self-harm
When the anger subsides you feel worse than you did before it started
Your anger has caused you legal or financial problems
Your anger is having an impact on your relationships, job or general wellbeing
Anger tends to be your go-to emotion whenever something negative happens
You suffer from rage blackouts
You self-soothe with drugs, alcohol or food to deal with your anger
You have a lot of anger inside you but struggle to let it out
If any one of these red flags rings true for you, we highly recommend that you access support to help you manage your anger levels. There are also a number of self-help techniques you can implement to lower anger levels in the short-term.
How to manage an anger problem
We can't stop ourselves from getting angry. As we've made clear in this article, anger is a natural human emotion. However, what we can do is learn to control our anger response. There's a big difference between asserting your feelings (which, to some extent, is a constructive response to anger) and being aggressive.
Let's take a look at 3 things that will help you to manage or overcome an anger problem.
Lifestyle adjustments
Making improvements to your overall wellbeing will put you in a better position to deal with difficult emotions and situations. Even seemingly minor issues like dehydration or lack of sleep can have a huge impact on how you feel and act. So, make an effort to up your hydration levels (it is recommended that we consume 6-8 glasses of water a day) and establish a healthy sleep pattern.
Increasing the amount of movement you do in a day can also have a myriad of health benefits. We're talking about better sleep, increased self-esteem, higher fitness levels and improved mood.
Certain types of exercise provide an opportunity to release tension caused by anger in a cathartic and constructive way. Consider taking a boxing class or learning a kind of martial art. For more detailed advice on how to make positive lifestyle adjustments, check out our article on 3 habits to improve your mental health.
Relaxation techniques
Now for things you can utilise when your anger levels actually start to rise. First of all, a simple but effective technique you may already have heard of is the count to 10 rule. It's just as straightforward as it sounds: when you get angry, slowly count to 10 (either out loud or in your head) before allowing yourself to respond. Even this short break can prevent you from overreacting or saying or doing something you later regret.
You may notice that when you get angry your breathing speeds up or you find yourself holding your breath. The way we breathe has a big impact on how our brains perform, which in turn influences how we behave. Just the act of taking a deep inhale through the nose and exhaling out of the mouth 3 times can make you feel more calm.
The great thing is, once you become aware of your breathing, you can start to control it, and the more you practise doing this, the easier it will become! There are plenty of different approaches to try, and you can find 5 of them in our article on breathing exercises.
Therapy
To really overcome an anger problem you need to get to the root of what is causing it. This requires some kind of therapy, where you can talk through your experience of anger with a trained professional.
A therapeutic approach like cognitive behavioural therapy (CBT) is particularly useful, because it will illuminate the link between your thoughts, feelings and behaviours, as well as helping you to reframe ways of thinking that fuel your anger.
Other benefits of therapy include:
A safe space where you can discuss your anger freely
The opportunity to learn how to express anger in a healthy way
Improved self-esteem and a more positive outlook
If you're interested in starting therapy, take a look at ManageMinds' services.
Concerned that someone you know has an anger problem?
You need to be careful when approaching a topic this sensitive, as people may be upset by the conversation itself. If you feel comfortable raising the issue, make sure to remain calm and reiterate that your concern is coming from a place of love. You can find more advice on how to help a loved one with an anger problem at Mind.
Keep an eye out for some more detailed anger management techniques coming up on the ManageMinds blog.
Explore More Articles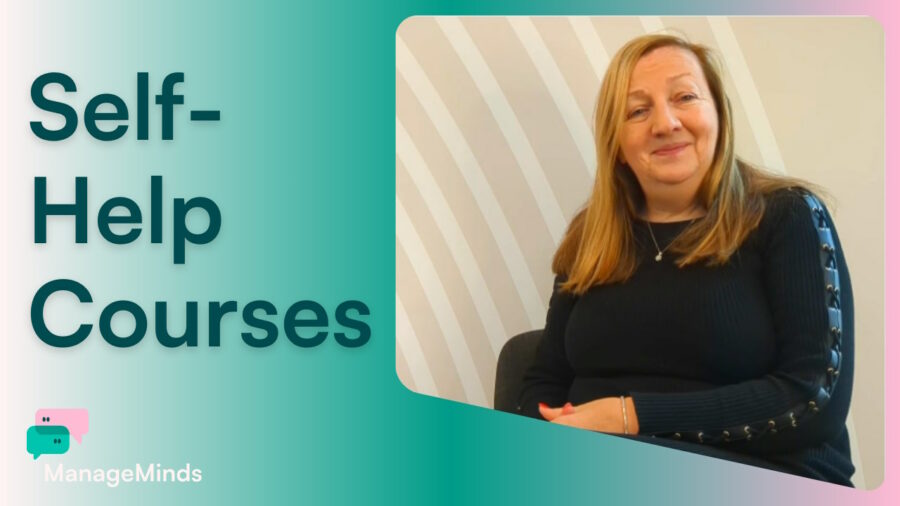 ManageMinds now offers a range of self-help courses. Find out everything from what's included to prices in this article.
DBT is often used to help people who experience intense emotions achieve balance and control. Read this article to learn more about this talking therapy.
Constantly feeling mentally and physically exhausted? Lost all motivation in your work and personal life? These 8 essential tips will help you manage and overcome burnout!